I LOVE HALLOWEEN!
Gee, is that a shock?!
Again, this year I went all out. First was a party this past weekend. We had 15 people here; most from my Trek club and two friends from Tampa. As I said to them, "My friend's house is yours!"
We had a great time with food, costume contest, a showing of "Monster House" and lots of friendly conversation. For decoration we had come up with the idea of floating Jack O'Lanterns in the pool. It worked out so well. My son John and the neighbor's daughter did the carving and we put glow sticks in them for light. There were two of them that sunk down below the water with just the stems sticking out, but, because they had the glow sticks in them, they continues to glow under the water!I wore my "Planet of the Apes" makeup which meant another yearly shaving of the beard.

Here is a link for photos from the party.
Since I had already shaved off the beard, I decided to put that to good use since Halloween itself was a work day. Here is how I went to work today!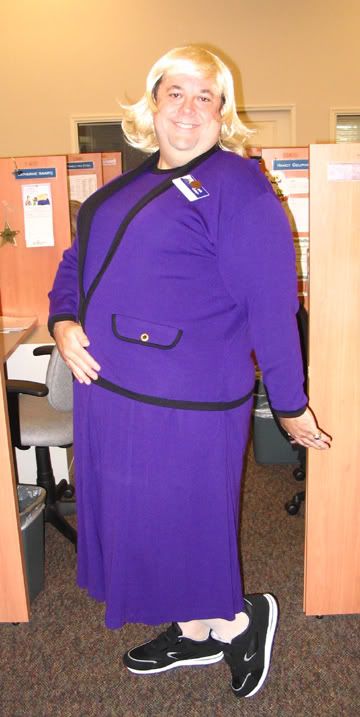 As you can see, I was well within dress code and was allowed to stay in my outfit all day. The jokes flew all day of course. It is getting harder and harder to top myself each year. I'll probably need all year to come up with something.

I can just hardly wait for the damned beard to grow back in!!!!!!!